Double Eagle™ LSA Details and Specifications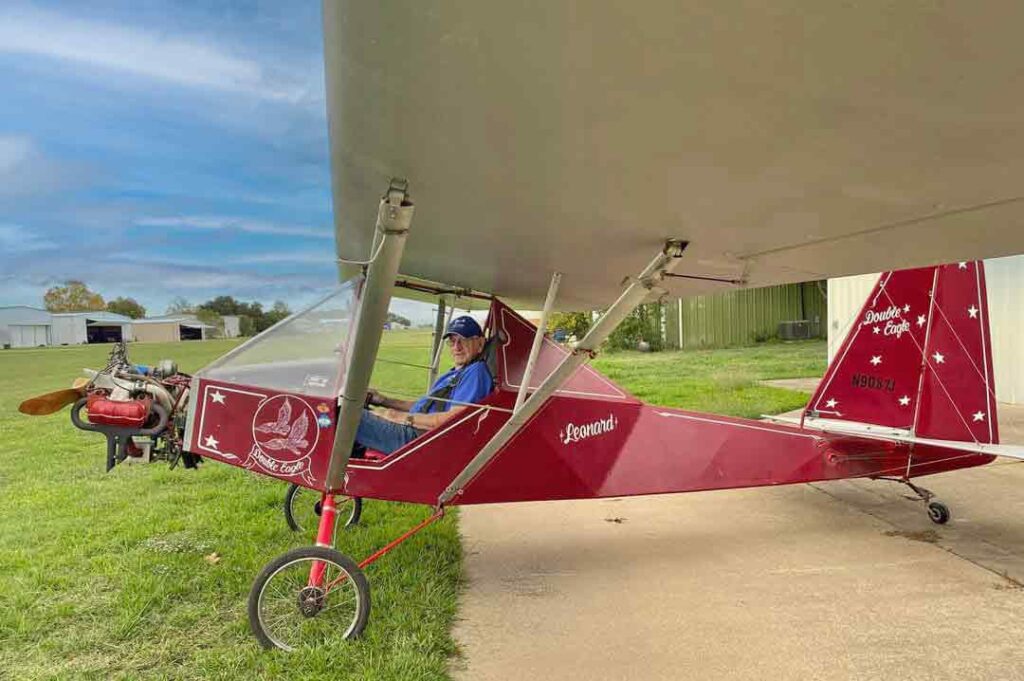 The Double Eagle™ LSA is a welded fuselage made of aircraft tubing and represents one of the strongest and lightest 2-place airframes on the market today. Designed by L.E. Milholland as his 11th project, the design was created as a "super" legal eagle for a heavy friend of Leonard's. When this friend died before the project was finished, Leonard converted it into an Ultralight Trainer for pilots wanting instruction on flying the Legal Eagle™. When the FAA changed the rules creating the LSA category, this design was certified as an LSA homebuilt design. Individuals who apply themselves can build this airplane in 7-12 months faster if they secure the materials kits from John Bolding. The cost for the design is between $7 and 15 thousand dollars depending on your scrounging ability and the use of parts kits. However, the prototype was built for much less.
Shop Plans, Videos, and Packages!
Specifications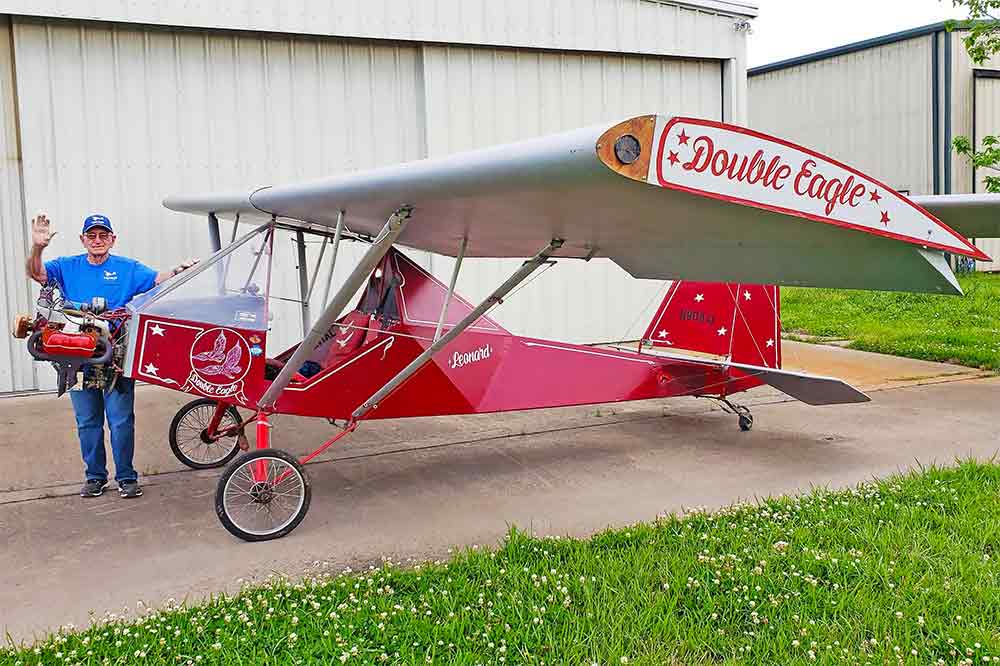 | | |
| --- | --- |
| Weight | 385 pounds (dry) |
| Height | 6'8″ |
| Wing Span | 28'3′ |
| Gross Weight | 900 pounds |
| Wing Cord | 55 inches |
| Useful Load | 515 pounds |
| Wing Area | 127 sq. ft. |
| Wing Stress Load | 4 G's |
| Fuselage | 18 feet |
| Engine 1835 cc | 60 Hp (approx) |
Power is supplied by the reliable VW 4 Cylinder Engine. These engines are widely available. There is also an active builders community and email distribution list.
Editors Note: Absolute specifications are based on the plans, and minor variations may be involved. This information should be used as a guide only and is not warranted for any other use, public or private. Leonard Milholland, as the designer, reserves to himself the final interpretation of any specifications for the aircraft outside of those submitted to the FAA and included in the plans. Since each builder may make variations in the plans and also possess varying skills in the manufacture of the aircraft, the final determination of airworthiness is up to the builder and the inspection process involved for certification. No other warranty is expressed or implied. The designer's absolute, complete and total liability for any disputes is the prompt refund of the amounts paid for plans and video materials.
Double Eagle™ LSA Detail Pictures
These are photos of the Double Eagle™ LSA by L. E. Milholland. Photo's by Leonard Milholland and Gail Simmons Gibson (his daughter). The design goal was exceeded, bringing this aircraft dry weight in at 385 lbs (airframe and engine), thus allowing for two large people and a full 10-gallon fuel load under the 900 lbs gross load. This aircraft has been featured for several years and flown at Oshkosh. Leonard was granted special flying permission for his 80's birthday at this event!
"I would ask that builders considering the Double Eagle ™ start with the engine because the design is simple. The Double Eagle uses a full VW engine, with modified cylinders producing a useful power of roughly 60 HP." Leonard Milholland.