Leonard Milholland's History and Bio Information...
A Bit of History and a Little Perspective
When giving a lecture at Oshkosh in 2002, Leonard was asked what type of airfoil was used on the Legal Eagle? "LP2" Leonard answers, "LP2" answers the crowd? Yes, Leonard says "LP2" stands for Lead Pencil #2. A good joke, but to really understand why LP2 works for Leonard, you have to know that he has been at this a while. In fact, Leonard has about 60 years of experience in drawing lines with a #2 pencil.
Leonard Milholland (designer of the Legal Eagle™) at the controls of his first homebuilt Junior Ace, completed in 1974.
Leonard was born in Kansas City, Missouri on July, 29th, 1924 and has always had an interest in airplanes. But his opportunity to really learn about them started in World War II. Early in 1942, he found himself assigned to Goodfellow Field in San Angelo, Texas. Interestingly enough, at about the same time this picture was taken 60 years ago, Leonard met his wife LaVerne! They were married in June 1943.
The US Army Air Corp trained Leonard as an aircraft mechanic, crew member, and gunner on a B24.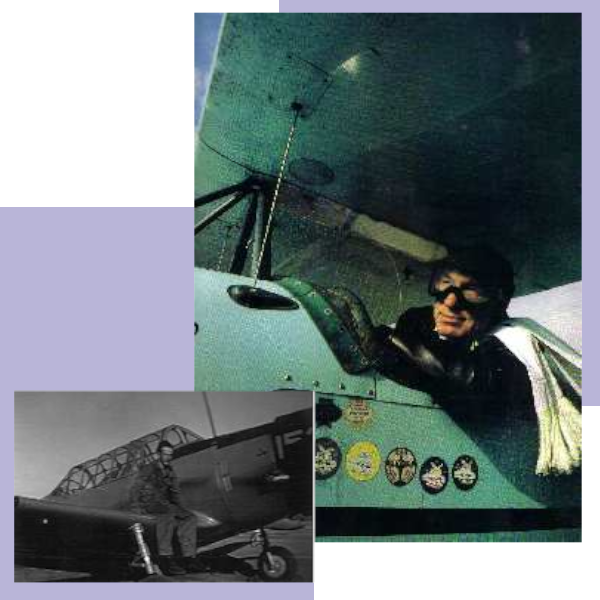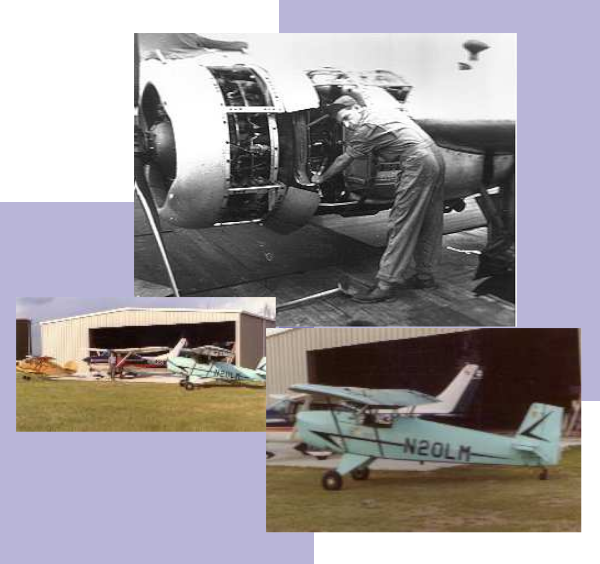 Leonard could field strip a fifty-caliber machine gun but it never did him any good. Not the same can be said for his mechanical abilities which were put to good use all throughout the war. Here, we see Leonard inspecting a B24 engine at David, Panama in the canal zone.
Naturally, during the war, Leonard got to do some flying, fulfilling those boyhood dreams when watching barnstormers in Kansas City. After the war, Leonard came back to the states and worked 33 years for Shell Oil. But, life on the wing didn't start again until 1970. That is when he and LaVerne started flying lessons. They took to it like chicks pushed from the nest.
Sports Flyer Estates in Brookshire, TX (west of Katy TX) is their home base, and they live in a 60 by 80 hangar that they built, complete with a 2-bedroom apartment built into one end. After earning their pilot's licenses, Leonard and LaVerne started getting around in a newly purchased Cessna 182. They began to attend airshows, getting to know flying enthusiasts who restore or build their own airplanes or home builts. We decided that we wanted a fun little airplane said Leonard, I picked out a simple design that was tried and true and started building it in our garage in Deer Park. TX. This is the same garage that Leonard had worked in for years as a VW and auto mechanic for the local community. The skills Leonard gained really came in handy when designing the Better Half VW.
The garage became his haunt after work and on weekends. He bought aircraft-grade spruce and mahogany and cut all the pieces himself. He fashioned the fuselage from steel tubing, slowly the Junior Ace, N20LM, metamorphosed from a stack of wood spars, yards of fabric, and an assemblage of wires and gadgets into a spirited open cockpit airplane. This first home built took two years, four months, and 20 days.
During the plane's construction, the Milhollands started thinking about the need for an airplane hangar. To cut costs, they decided they'd build it themselves. Naturally, their ideas about what they wanted to do in retirement were also a consideration, causing the addition of the apartment in the hangar.
Here, we see Leonard and LaVerne photographed on the sun porch for a feature story that Shell did on them in 1987. The photo directly below is also credited to the Shell story. Leonard in his hangar workshop in 1987.
Naturally, the hangar is fully equipped for the pursuit of building small airplanes and doing the little odds and ends that Leonard tackles for his EAA chapter. They also have most of their meetings here.
Leonard also has built a number of other homebuilts including a guppy, a baby ace, and a Kelly-D.
This is a Kelly-D built by Leonard Milholland.
The Kelly D.
At the 2003 Oshkosh, Leonard had the Double Eagle™ ready for showing. The 2003 Oshkosh trip is dedicated to the memory of Leonard's wife of 60 years. (LaVerne Milholland asked Leonard to make the Oshkosh trip, and as one of her parting wishes, we are all committed to honoring her memory.) LaVerne passed away on 6/17/2003.
The events of 2003 were ones that pulled the entire family together and helped us all remember the important things in life. For recreation, Leonard continued with the double eagle project and the building of a sailboat. He also continued with his commitment to the Young Eagles program with the EAA. The family was all glad to see his passion for all these things continue in his life.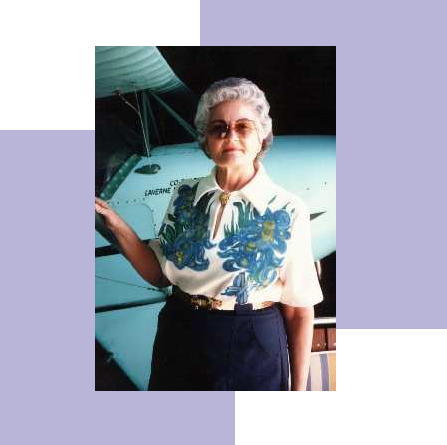 In 2004, another passion was kindled in Leonard's life when his friendship with Donna became a full-out case of "Leonard in Love." The great thing was, it was mutual—Donna's in love too; and with Leonard, no less. Will wonders never cease. In any case, with the love and encouragement of all the family and friends who could see this passion ever so clearly, we all watched as Leonard proposed at Thanksgiving (2004). Here is a picture of the blessed event. What do you think?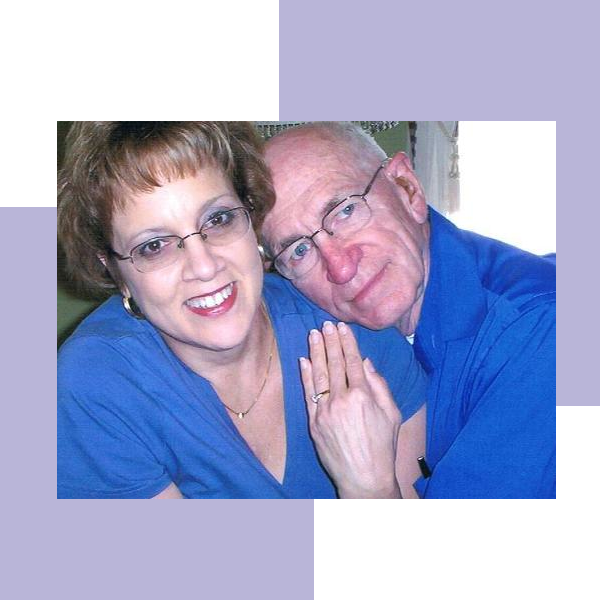 Donna Cervenka and Leonard Milholland right after the proposal at a family Thanksgiving in 2004.