Better Half VW 2 Cylinder Engine
The Better Half VW Engine has gone under some revision since the original 1993 version. A number of improvements have been made, that result in greater power, reliability in the dual carbs, and other changes that have reduced the complexity of building. Here are a number of photos of the new engine. The plans that you will receive are for this version of the engine, the only version currently recommended for the aircraft. The current design provides roughly  30 HP, and will cost between $1,500 and $3,000 depending on your scrounging ability.
Somewhere between 450 and 600 of these engine conversions have been built and are flying today... Including dozens on flying Legal Eagles™ , many featured at Oshkosh.
The Dual Mikuni Carb version of the Better Half VW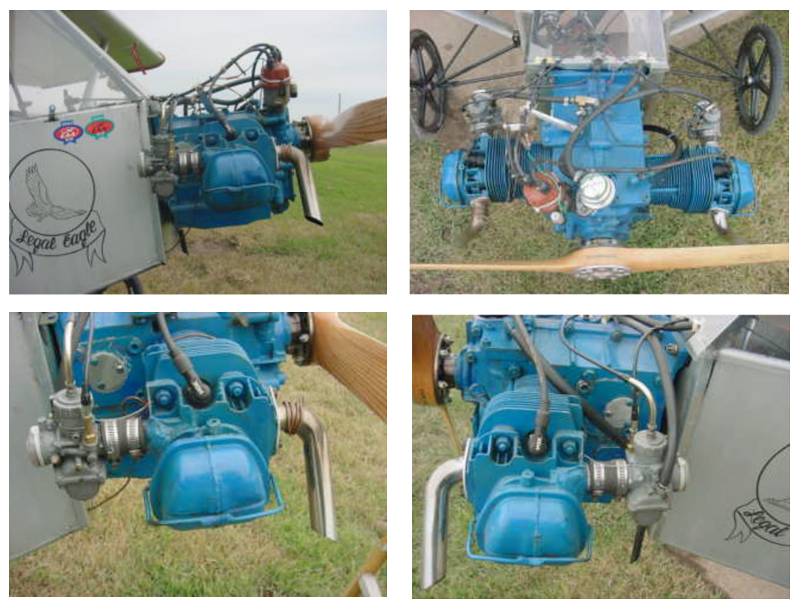 The Engine for the Double Eagle™ and the Cabin Eagle™ starts out as the 1600ccVW engine that was in so many Beetle VW autos it is identified by the two oil pressure relief valves on the bottom one in front and another one in the rear. The conversion to a airplane engine for the Cabin Eagle™ and the Double Eagle™ consist of 92mm cylinders, a zenith carburetor , a exhaust system, a carburetor heat system and a Kubota tractor alternator (Great Panes has the regulator). This is a mild hop up and is very reliable. Note the scops to cool the rear cylinders. Intake castings are also from Great Planes. The carburetor heat system is covered in the plans as is all the Engine attachments also the video covers the engine assembly.